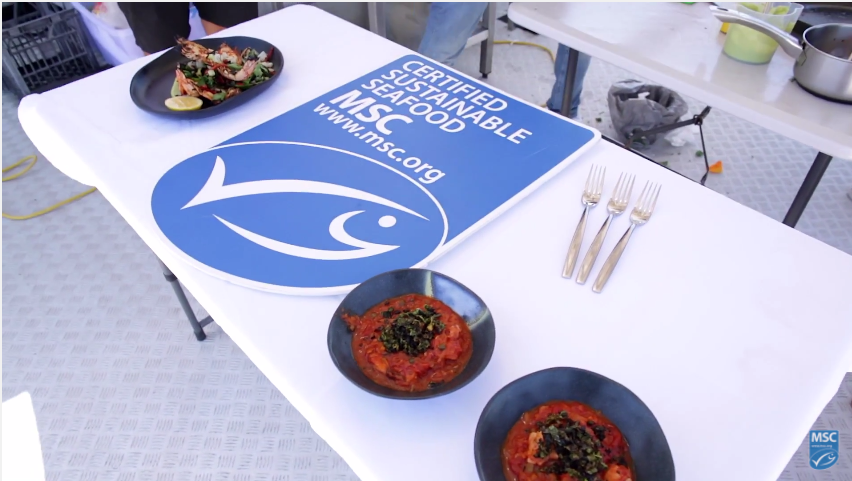 28 Aug

MSC Australia Sustainable Seafood Celebrity Chef Challenge

MSC Australia challenged celebrity chefs Andy Allen (MasterChef winner, Three Blue Ducks co-owner & head chef) and Scott Gooding (My Kitchen Rules contestant, Scott Gooding Project) to choose the blue MSC label to create two dishes showcasing wild-caught, certified sustainable seafood.

The catch: the cook-off took place on board a Walker Seafoods Australia fishing boat in Mooloolaba, Queensland. The winner got to take home bragging rights, while the loser had to walk the plank.

Andy chose to work with MSC certified Skull Island tiger prawns and MSC certified yellowfin tuna, and prepared chargrilled prawns with chili and garlic oil, avo mousse and charred greens, as well as a seared tuna salad with young coconut and fish sauce.

Scott picked MSC certified ling fillets and MSC certified New Zealand hoki for his dishes, and prepared hoki in coconut broth and Sicilian fish soup.

Guest judges Heidi Walker (Walker Seafoods Australia), Andrew Wallace (Federal Member for Fisher), and Aaron Ruttan (owner and head chef, Spice Bar Mooloolaba) scored the dishes.

Watch the video to find out who won, and who had to walk the plank.